Events
The Institute on Race, Power and Political Economy offers events engaging with community and business leaders, policymakers, activists, philanthropists, and journalists across the nation and around the world.
---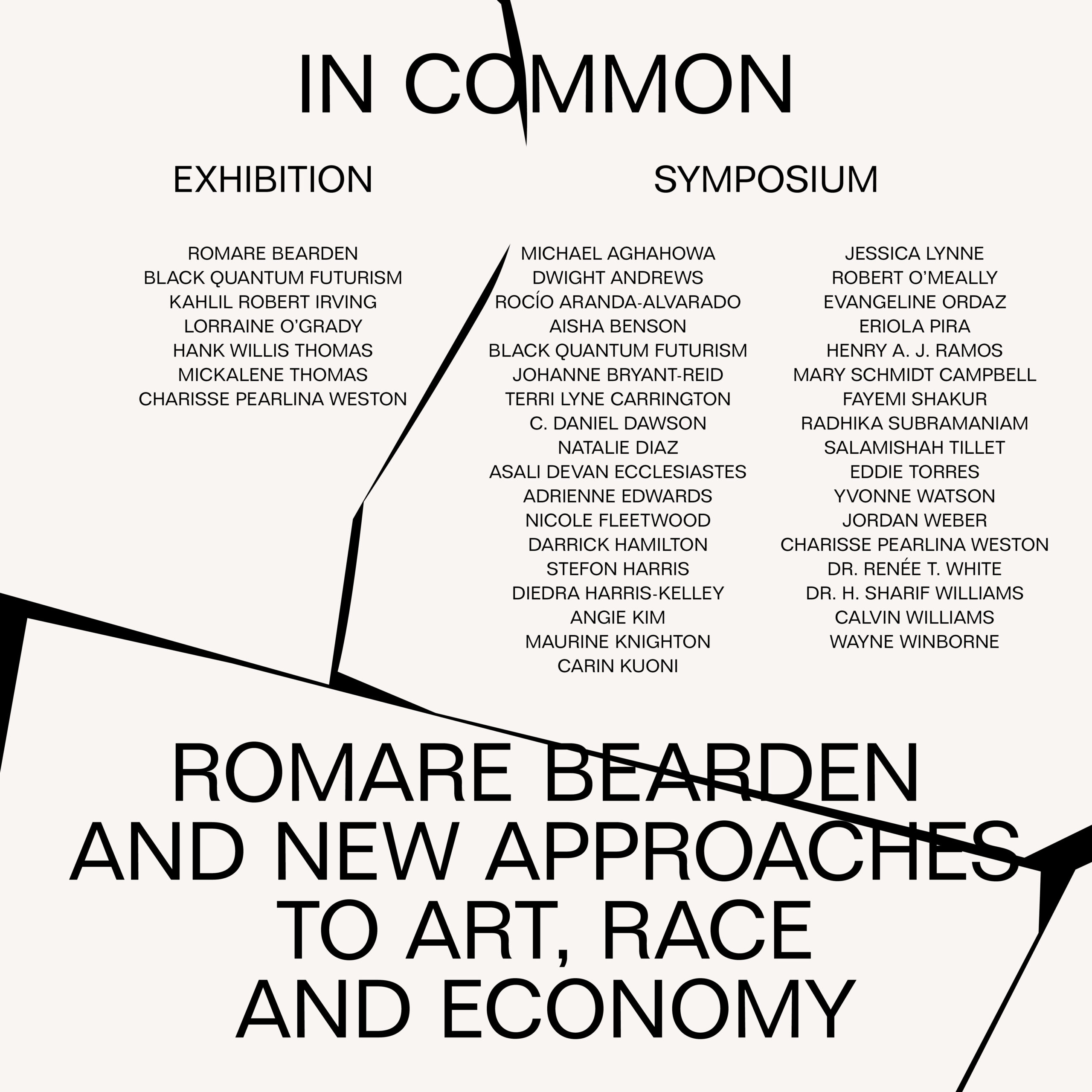 ---
The Institute on Race, Power and Political Economy, the Vera List Center for Art and Politics, the Romare Bearden Foundation, and the Institute of Jazz Studies at Rutgers University Newark are pleased to present a multi-tier initiative—including a symposium, exhibition and forthcoming publication—examining American icon Romare Bearden's work as an artist, educator, scholar, songwriter, and social activist.
The symposium, In Common: Romare Bearden and New Approaches to Art, Race & Economy, will take place November 30-December 2 at The New School. Featuring contemporary creative works and perspectives from socially-conscious, politically engaged BIPOC artists and commentators, the symposium will draw on Bearden's activist legacy to spotlight the potent, yet still-too-rarely-acknowledged relationships between race, culture, economy, and the Common Good.
The exhibition, In Common: New Approaches with Romare Bearden, brings together Bearden's works alongside six contemporary artists—Black Quantum Futurism, Kahlil Robert Irving, Lorraine O'Grady, Hank Willis Thomas, Mickalene Thomas, and Charisse Pearlina Weston, whose visions resonate with those of Bearden and contribute to a multigenerational dialogue on the political agency of art. The exhibition opens Thursday, November 9 and will be on display at the Parsons School of Design and Sheila C. Johnson Design Center's Anna-Maria and Stephen Kellen Gallery until Monday, January 15, 2024.
Register for the Exhibition opening reception.
__________________________
---
---
On December 12, from 11:00am–12:30pm PT, we are gathering social justice leaders and allies across the country for a virtual roundtable to elevate the need to dismantle structural policy and budget challenges that undermine long term wins for racial, gender, and economic justice.
Organized by the California Explorations Project (an initiative of the Institute on Race, Power, and Political Economy) and the Excessive Wealth Disorder Institute, this roundtable is part of an exciting new initiative to build capacity for multi-issue coalition work, expanded civic mobilization, and long term social justice wins for all historically marginalized communities.
We aim to equip attendees with the knowledge, connections, and motivation needed to usher in real structural change in California—and elsewhere—through a collective conversation featuring guest speaker Dr. Manuel Pastor, Director, USC Equity Research Institute, in conversation with Shimica Gaskins, President & CEO, GRACE/End Child Poverty CA.
Join us to learn about our findings on structural policy reforms, communications strategies, and civic mobilization in California and to share your organizational priorities, needs, and wisdoms for long-term wins.
__________________________
---
---
Past Events & Programming
Explore past events and programming from the Institute on Race, Power and Political Economy.
---